*Content Warning* this will deal with feelings of body dysmorphia, which can be potentially triggering to folks. Take care of yourselves y'all.
My pinky toes are too fat. My fingers are chubby. My face looks like a boy and I'm U-G-L-Y you ain't got no alibi, ugly. I would think these things to myself the summer before 4th grade, ignoring the beaming star out and about during the daytime to crouch on my bed, edges sweating out, and examine my toes as I painted them. My fingers tucked under the polish bottle seemed to highlight and accentuate their sausage-esque nature. My best friend, two doors down, was long and slender: a mixture of bones and angles. Even people I saw with cornbread residuals around the midsection didn't seem to have the same hamhock thighs and hotdog link fingers like me. Ugly, just ugly. Outsides definitely did not match the insides. Internally, I felt like a music superstar, someone glamorous, curvacious. Commanding presence. But, when I looked in the mirror I saw something almost unrecognizable. Who dat manly lookin fat girl? She ain't me.
About a year later is when the boobs sprouted and my uncomfortability was centered around those lumps of fat that somehow made the outside world deem me a sexual being, food to nourish a grown man's loins. I still felt like a different person on the inside compared to outside presentation,
I almost forgot about my dysmorpic feelings as an adolescent. I don't know exactly how long they lasted, or if they ever went away. I imagine, like most things during that time period, I shoved it down into some internal box, something to unpack another day. It can wait until tomorrow, let's close the lid on that one more again. Having convinced myself I was "over it," the crate and its contents were eventually forgotten about by high school.
A good portion of my self-confidence in my teens came from how people I had crushes on saw me, specifically the first person I dated. A liked the boobs and stomach pudge, so it was alright by me. I was cute. At the time, I thought that was an accomplishment- feeling pretty, no matter the source of joy.
There were still times I would feel insecure at this age, mostly centered around my breasts. The first act of sexual violence I remember was during high school. Unfortunately, it happened again several times after that throughout high school and college. It's an unnatural sensation, thinking that my body (my permanent home) isn't mine. The aftermath felt like being evicted from myself, stolen and left somewhere outside of me with no real identity. My identity was nestled inside one abusive relationship then another. I painted on what I thought was a brave smile, a stoic smirk, some semblance of confidence and contentment. An unconscious truth, my insides still didn't reflect who I wanted to be and I barely knew who I was outside of acts of control.
First year of undergrad, I lost approximately 50 pounds. During the brief time I was single during that period, I would remind myself that my prominent hip bones and size 6-8 frame were for taking back control sexually. It wasn't something I necessarily did for myself or on my own terms, a quality I envied in my classmates, but rather I would wonder what would turn so-and-so on. Being thin would, so I was thin for other people. By graduation, I had gained most of the weight back. I felt discouraged, more disappointed in myself that I had let "this" happen. That was in 2013. For the next few years afterwards, I would lose and gain the same 20 pounds. Never feeling completely satisfied and confused as hell while trying not to buy new clothes, I would repeat a mantra of sorts: just lose some weight, drop 10 and you'll be pretty again, losesomeweight.
A lot was jammed into those 3 years: a stint in a psychiatric ward, graduation, stealth and minimization of abuse, my first solo apartment, new jobs, graduate school, and my first foray into microaggressions in the workplace. Potato chips were the only constant.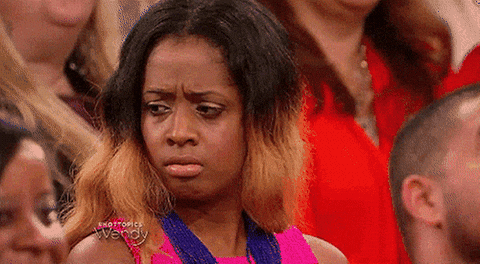 Around 2016, the number on the scale started going up, up, up. Everything became rounder: my face, chubby cheeks that made my infrequent smiles hurt, my stomach, my ass. There had long since been a little junk in the trunk, but now it was chunky, not plump, in a way I despised. My breasts had gone up and down in sizes. I kept measuring myself: going from a DDD/F, H, a J and eventually an L cup. There was a persistent heavy ache against my chest as they hung low but full. I woke up with a gnawing between my shoulder blades and some sort of stabbing sensation in my lower back. It became an unhealthy part of my morning routine to examine my naked body in the bathroom mirror, growing more displeased with the cellulite and hardened fat. I felt like an imposter in my own body. This woman avoiding eye contact with me in the mirror- who was she?
Leaving the house only amplified how much I did not feel like myself. Jackets tugged as I sucked it in and tried to concave my chest until that damn zipper would go up, sitting on bus seats somehow always went wrong. I would squeeze into a window seat trying to pinch my arms across my chest in a futile attempt to take up less space. A few women sitting next to me would comment that I was sitting sideways or my legs would point one way and my torso another. Even just walking down the street, switching of the hips and walking in a somewhat graceful way seemed like an increasingly hard task. My changing body was laying claim on different parts of myself that I didn't expect, and walking across the street for lunch still made me wonder: who is this woman? Because she ain't me.
It wasn't until my mid-20s that I realized just how many times I took a sneakie peakie at myself. Besides intentionally wanting to see myself in a mirror (rare), there were still glimpses when I washed my face and brushed my teeth, reflective glass surfaces like the window panes at work, obligatory holiday party photos, and more. It was a reminder throughout the day that my outsides were fugly, a distressing toll as I barely recognized my form right there in front of me, much less in the distorted rim of drinking glasses.
While I've had insecurities surrounding many parts of my physical being, the nuances of the dysphoria has always focused around my breasts and waist. I would go so far as liposuction that made me gain more weight (through a credited doctor, but I lied about not having family in the area and went by myself), copious amounts of different diet pills and shakes, any sort of cure to finally be happy with this physical home I was trapped in. These two body parts were a defect and I wanted anything to get rid of that abnormality. I told myself multiple times a day that the hours in the mirror would be worth it if I could make myself more proportional, if I could find a way to take the focus away from my boobs. Ultimately, I was the cause and so I had to be the solution.
Wrong. I didn't cause my mental health issue, and I was confusing a responsibility with a guilty verdict. Therapy has helped, in addition to positive affirmations.
I'm still fairly new to the world of daily affirmations, but a starting trick I learned was to while being gentle with myself write down negative thoughts about myself on one side of the page and then next to it, write down the opposite/positive. Every morning, I say the positive. Part of the process looked like:
| | |
| --- | --- |
| I am an ugly cow. | I am beautiful. |
| No one loves me. | I am loved and worthy of always being loved. |
| I'll always look this way. | I am pretty on the inside and out. |
My relationship with my body is still a work in progress, but those [almost] daily affirmations along with everything else I unpack with my therapist have helped to shift my mindset, and begin to erase those negative thoughts.
What parts of your body cause moments of insecurity? What do you do to overcome those insecurities? Let's engage
Processing…
Success! You're on the list.
Whoops! There was an error and we couldn't process your subscription. Please reload the page and try again.